April 15, 2018
Posted by:

Simangolwa Muyunda

Category:

News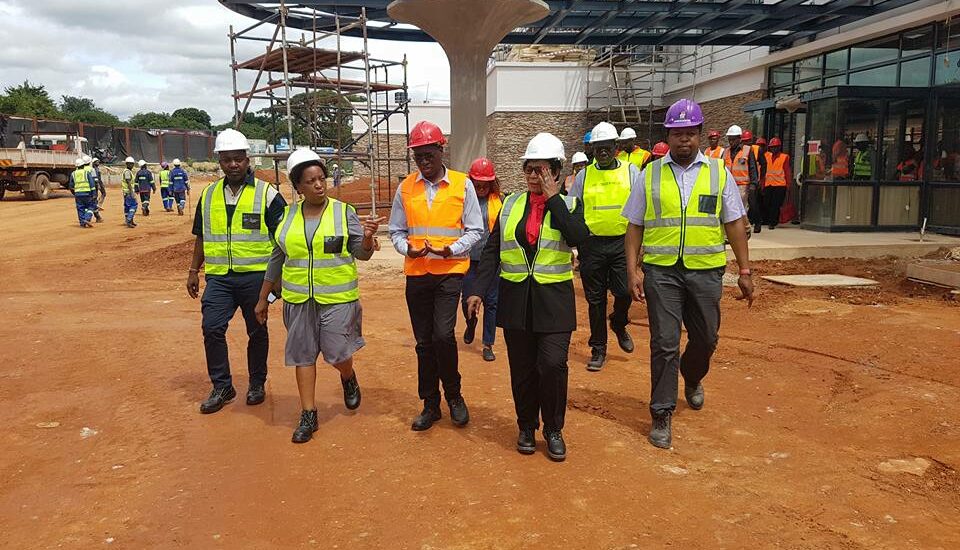 The Minister of Labour and Social Security, Hon. Joyce Nonde Simukoko, MP has expressed satisfaction with the progress of works made at the Edgar Chagwa lungu Mall (ECL) in Kitwe.
The minister toured the project on Friday, April 13, to have an appreciation of the current state of the project, which started in September 2016.
"It gives me pleasure to tour the ECL Business Park comprising the Shopping mall, Hotel, Convention Centre and Offices and to see great progress made to date from my last visit." She said.
Hon. Simukoko added that the Patriotic Front Government through the Ministry of Labour and Social Security, revised NAPSA's investment policy and guidelines to enable the scheme undertake real estate investments responsive to the needs of the Zambian economy.
She noted that, by constructing ECL Business Park it was evident that the scheme was serving as a developmental vehicle for the country as a whole and Kitwe in particular.
Hon. Simukoko further said that it was gratifying to note that many jobs had been created during the construction and significant number of permanent jobs would be created once the project was completed.
"I am very happy, to see that the quality of works on the two projects is excellent and that both projects will be delivered within the project budgets hence without cost over- runs." She remarked.
Hon. Simukoko commended both NAPSA and the two project teams for the good work done so far.
And NAPSA Director General, Mr. Yollard Kachinda said he was happy with the commitment of the contractors and had no doubt that the whole project would be completed on schedule in readiness for commissioning by October 2018.
He assured the Minister that his team was working around the clock to ensure the project was completed as planned, adding that the development would transform the city of Kitwe for better.
"The law allows us to continue to invest in projects. This country requires a lot of infrastructure development and we are there to partner with government and develop the country. I can safely say that after this project certainly we will have other projects coming up within Copperbelt and beyond." Mr. Kachinda said.
The Minister also took time to interact with workers whom she encouraged to continue working hard in the interest of developing the country.
The Minister was accompanied by the Labour Commissioner, Mr. Chanda Kaziya, NAPSA Director General, Mr.Yollard Kachinda and Workers Compensation Fund Control Board Commissioner, Mrs. Elizabeth Nkumbula among others.